1
Whether you're searching for the perfect gift, viewing or customizing your jewelry, or want to learn more about diamonds, we are here to help. Simply fill out the form below to schedule an appointment at your selected location.
2
After you submit the form, a Helzberg Diamonds store associate will contact you to schedule and confirm your appointment date & time.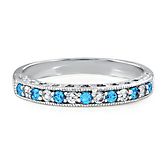 Blue Topaz & Lab-Created White Sapphire Stack Ring in Sterling Silver Item # 1910577
Current out of stock at the below location.
This item will take 4-6 business days to arrive at your specified store. A 10% refundable deposit is required. A store associate will contact you for further details.
White Oaks Mall
2501 West Wabash
Springfield, IL 62704
217-787-8730